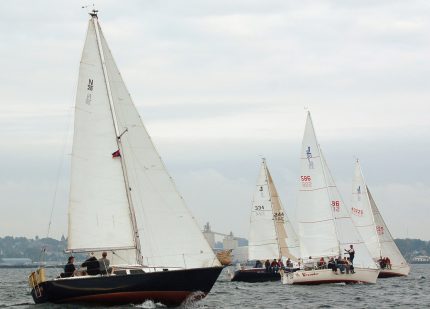 Best Sailing in the Northeast!
Lake Ontario offers some of the most challenging and exciting sailing.  At over 193 miles long with 712 miles of coastline, our most-easterly of the Great Lakes has a surface area of 7,034 square miles.  Because of the effects of the water inflow in the southwest and its outflow in the northeast is to set up a counter current along the north side of the lake. This current can run from less than 1/4 knot to over 2 knots.
The OYC offers many opportunities for sailors to enjoy competitive sailing from spring to fall, including:
Wednesday Night Racing
Annual Hospice Regatta
Firecracker Jam
Annual Sail Oswego Regatta
Pumpkin Race
Haul-Out Regatta
Additionally, OYC has hosted the Eastern Yachting Circuit Regatta and the Lake Yacht Racing Association Regatta.
We are proud to host the National Hospice Regatta for 2017.  More exciting news about this prestigious National Event is coming soon!
Interested in racing with us?  Let us know!